On August 28, 2017, Hongchang Coatings Co., Ltd. celebrated its 26th anniversary and held an anniversary gala dinner entitled "Twenty-six Years Together We Were" at the Junan Grand Hotel in Shunde. Guangdong Provincial Coatings Industry Association, Shunde Coatings Chamber of Commerce, Shunde Association of High-tech Enterprises, Shun Business Club, Junan General Chamber of Commerce and other leaders at all levels and from Hongchang paint all staff gathered to celebrate the 26th anniversary of Hongchang Coatings Festival!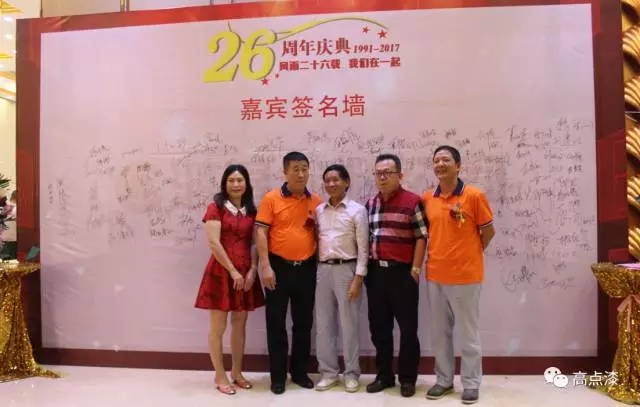 At the beginning of the celebration, Hongchang Coatings Company reviewed the work achievements of nearly a year in the form of documentary. At the celebration, Chen Guoxiong, the general manager of Hongchang Coatings Company, expressed his sincere gratitude to the guests and partners and extended his gratitude to the friends and family who have grown together with Hongchang Paint for a long time. At the same time, Mr. Chen summed up the current development situation of Hongchang Coatings and the work plan in the second half of 2017 from three aspects. Encourage everyone to challenge themselves and shape the future.
Dinner, general manager of Hongchang Coatings Chen Guoxiong, Chief Financial Officer Huang Cuiyu, Wang Lichen, deputy general manager, vice president of Zeng Jin, Su Jianming, deputy general manager, Wang Litchen, deputy general manager and other leaders took the stage toast, champagne for the 26th anniversary of Hongchang paint Birthday.
In addition to joy, Hongchang Coatings Company honored the "outstanding staff of the companion gorgeous chapter" and presented the "Five-year Employee" and "Ten-year Employee" Contribution Award at the dinner party. 26 loaded with the same boat, Hongchang paint company said that thanks to each and every family to Hongchang paint company's contribution to the coatings industry's tireless contribution to the spirit of honor awarded employee awards, is praise, it is affirmed, but also a "you are Proud "proud of the heart.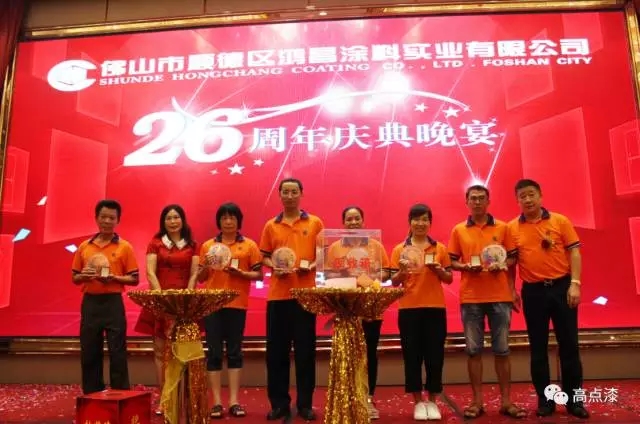 The general manager and his wife presented their employees for ten years
Rain and storm of course 26 Spring and Autumn, Hongchang paint company never stopped. I believe in the near future, we will present a better answer, so that more new and old friends and paint people, to witness Hongchang Coatings new take-off and dream!